About Family Eye Care West
The leading provider of quality vision care products and personalized optometric services in Greensburg.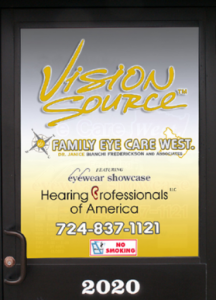 Since 1928, Family Eye Care West has been the leader and preferred provider of quality vision care products and personalized optometric services to our patients in Greensburg and the surrounding areas. Our experienced doctors and staff offer comprehensive vision examinations and specialize in the diagnosis and treatment of a wide array of eye diseases, conditions, and problems.
In our mission to provide the best eye care services possible, our doctors use only the most advanced, state-of-the-art diagnostic technology and eye care products available. We are committed to educating our patients and providing personalized eye care services to the people of Greensburg. At Family Eye Care West, you will find eye care professionals who genuinely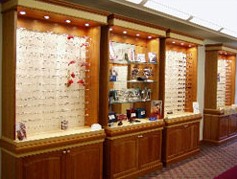 care about your health and are dedicated to providing exceptional personal service to everyone who walks through our door.
Schedule an appointment with an experienced eye care provider at our Greensburg optometrist office and give your vision the level of care and attention it deserves.
Kids Welcome
Don't forget about the kids … we have childrens' frames; Disney, the Flintstones, Nautica, John Deere, Nike, Wangler, NASCAR, Jacob Daniel, Nickelodeon (starring SpongeBob Square Pants), sunglass, ski & sport googles, and Scooby Doo just to name a few. Our "Kids Welcome Here" is not just a logo but the way we do business; from our 'KID PIT' in the waitng room to kids books to their very own optical display with frames just for them.
The older kids have all the latest styles and trends to choose from, including Jill Stuart, Sydney Love, Levis, ProDesign, NASCAR, Wrangler, Joseph Abboud, and "WildEyes" contacts featured in our shopping section of the website.